Toots Thielemans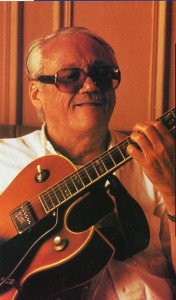 Toots Thielemans died, Monday august 22, in Braine-l'Alleud, Belgium, at the age of 94.
With him disappears the jazz player, the « King », globally recognized by his peers : Quincy Jones, Charlie Parker, Benny Goodman, George Shering, Oscar Peterson, Dizzi Gillespie, and many others.
Jean Baptiste Frederic, Isodore, Thielemans was born in Brussel, Belgium on 29 April 1922. His parents owned a cafe at Marolles district.
Of his childhood, he will regulary play with a small accordion popular songs of these years, before discovering the chromatic harmonica. At the age of 17 he made his debuts with this instrument during the second World War. He will improve his game to listen to Django Reinhardt records, which will mark him deeply. After the war he adopted the name of Toots, more modern and more « American » than his first name.
In 1961, he recorded the title « Bluesette » which will be sold overtime to millions of copies, in wich he shows his talent as a guitarist and the more unexpected, Whistler, which will bring him international fame. Therefore recognized in jazz circles throughout the world, Toots multiplies the recording sessions an concerts, tours, to the side of prestigious musicians. He leaves us an impressive discography.
I remember a duo occured in Montreux, Switzerland, in 1980, which took part Toots with Dizzi Gilespie. Magic duo into the background of a Leman lake bathed in a full Moon inviting to the concert... Memories are made of this.
In 2001, « Ket » (his nickname in Belgium), already honorary doctorate of free University of Brussels, was Knighhted and made Baron by King Albert II.
Toots but left us, his pretty little waltz is now an orphan... Kiss to Bluesette*
We miss you already Toots.
I adress my very sincere condolences to his wife, Huguette, and members of his family, which I associate my Harmonica friends.
Jean Labre
*I composed « Kiss to Bluesette » dedicated to him, appearing in my last CD
Published August 30th 2016
Franz Chmel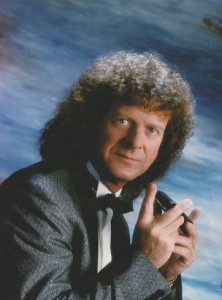 Franz had passed away at the age of 72, on August Thursday the 18th, after a long illness. The Harmonica planet is mourning.
His first contact with harmonica was when he was 6 years old.
When he was ten, the harmonica trio « Piccolo » was formed with his brothers. During all the years of its existence they won the National and International Competition (World Cup) several times. After a pause for reflection and his triumph at the Soloist World Cups, Franz strengthened his musical knowledge with piano lessons followed by theoretical studies.
I have produced his first CD in 1994 under my music label PSB. I often listen to this record in which he plays the « Venice Carnaval » violin variations, of Arban, with a virtuosity reaching to the top. During a meeting James Moody had said to him : « You play like someone coming from an other Planet ».

Franz Chmel has given numerous concerts in Europe and United States, thus having innumerable occasions to play with world renowned artists.
His style : absolute priority to baroque music, and classical pieces for violin. His interest in original works was growing, particularly those from James Moody.
Frank was a great friend. I am offering my very sincere codolences to his wife Brigitta, and his family.
Jean Labre
Photo Hazenzagl
Published August 27th 2016
SPAH Annual Convention 2016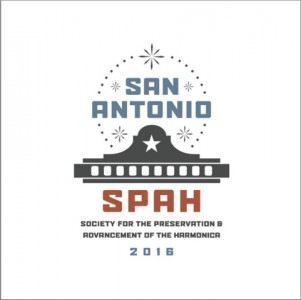 The annual SPAH Convention is America's biggest harmonica party!
Held in a different city every year, the SPAH Convention is a five days event that features seminars, jams, and world-classes performances for players of all types of harmonica and all styles of music. The 2016 Convention will be held August 9-13 in San Antonio, Texas, at the El Tropicano Hotel.
Performers this year are : Robert Bonfiglio, Peter « Madcat » Ruth, Dave Moore, The Gardner/Watne/Sgro Trio, Bill Barrett, Brendan Power & Jimi Lee, Paul Oscher, Buddy Greene, the young duet Filisco Rubin All- Stars, etc.
Daytime activities : seminars on various topics, from harmonica history to music theory to harmonica maintenance. There is also a vendor area with boots manned by the world's major harmonica manufacturers, CDs, repair boots.... Tourism.
Not to forget the delicate intention reserved to women, « The Ladies Breakfast » ; so dear to the missed Pete Pedersen, created at his initiative.
Saturday evening, the convention will be ending with the traditional dinner concert and Jam Session Final.

Hotel reservations at El Tropicano hotel in San Antonio can be made :
& by phone 00.1. (877) 736-4311

& via email :
For all informations contact info@spah.org

French harmonica players are wishing a successful convention to their SPAH friends
Published June 17th 2016
Ampoigné 2nd Harmonica Festival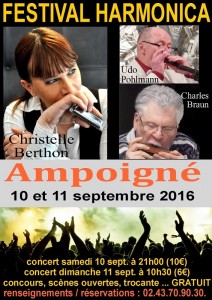 After the success obtained last year, the mayor of this very welcoming town has decided to organize a 2nd Festival this year. It will take place at the City Concert Hall .
Ampoigné (France 53200) is situated in the « Mayenne » province area, near Laval city.

The Festival organizing committee will offer a lot of attractive activities during three days.
Programme :
& National Harmonica competition : chromatic, diatonic, ensembles, 3 categories (children, juniors, adults).
& open stages
& an instrument repair stand
& « trocante », seconde hand dealers area : old records, CD, magazines, instruments, Hifi systems, microphones, etc.
& 2 concerts, featuring : Christelle Berton (diatonic), Charles Braun (chromatic) and Udo Polhman, Sunday morning, in the beautiful church of the city.
Information, reservations : tel : (33)2 43 70 90 30
(33)9 80 93 91 82
Published June 8th 2016
Asia Pacific Harmonica Festival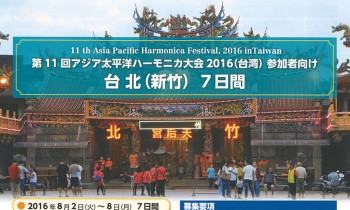 After Hangzhou, China, the 11th Asia Pacific Harmonica Festival (APHF) will take place from the 2nd to the 7th of August, at Hsinchu, Taiwan. It will be the most important harmonica event of the year. This biennal Festival is usually the appointment of the Pacific countries : China, Japan, Malaysia, Singapore, Hong Kong, South Korea, Philippines, India, Polynesia, Thaïland, Hawaï, Indonesia, Australia, New Zealand, New Caledonia, USA, and others participants from around the World. The organizing committee proposes a lot of activities to be held in a palace hotel located in the center of this traditional and cultural city. Among others activities, a world harmonica competition, including several categories and opened to all ages (children, juniors, adults) is proposed . The competition in Kuala Lumpur (2012) had gathered 2817 participants, ensembles included. Others activities at the program this year : an international concert, open stages, workshops, seminars...
French harmonica players are wishing a successful 11th Asia Pacific Harmonica Festival to the far east harmonica players.
Information : http://www.hapa.org.tw/aphf &

Photo c/o APHF organizing committee
Published June 6th 2016
ARMOS Concert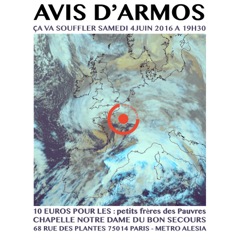 The ARMOS quartet have been highlighting the qualities of the chromatic harmonica since 2004, with a particulary rich repertory from classic music to jazz and variety, including compositions of Pierre Rochat talented harmonica and violin player. The other artists of this quartet are Gérard Margnoux, Dominique Lannes (both chromatic and distonic), and Pierre Augier guitarist.
This concert will take place in "Notre Dame du Bon Secours Chapel", 68 rue des Plantes, 75014 Paris, at 7.30 pm.
Your are invited to a final orchestral participation for the last piece "Tous Ensemble" (composed by Pierre Rochat). If you are interested you just have to choose one voice out the 4 proposed on the music sheet, herewith.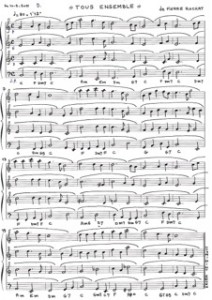 Concert organized to the advantage of the association "Les Petits Frères des Pauvres".
Tickets 10€
Published May 12th 2016
Harmonica in the Paris Opera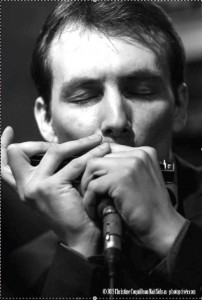 Paris Opera Garnier was born in 1875... For the first time in its history it will host a musical instrument born also in the 19th century, the harmonica of Antoine Leroux, very talented harmonica player. This event will happen from March 19 to April 1st. Twelve performances during which Antoine Leroux will play the Tchaikovsky's 'Waltz of the Flowers' (from The Nutcracker).
A world premiere in this Opera Garnier, historical monument, as the Carnegie Hall in New York, classified National Historic Landmark, in wich Larry Adler and Buddy Green obtained a triumphal success, without forgetting Claude Garden at Boston with the Boston Pop Orchestra.
Many prestigious venues, contributing to getting exposure for our instrument to the general public.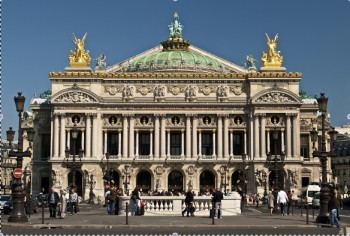 Published March 10th 2016
Tokyo Convention AJHF 2016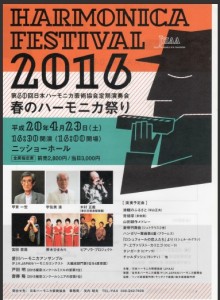 The AJHF convention (All Japan Harmonica Federation) will take place in the hotel « Lungwood Nippori », Tokyo, April 23th and 24th.
On Saturday 23th : Traditional Opening Concert at the « Yaruto Hall Theater » (Higashi-Shimbashi), Tokyo, in collaboration with « Japan Harmonica Arts Association ».
Sunday 24th : Convention general meeting during which Jean Labre will inform on the situation of harmonica in France and Europe, followed by a meeting seminar and an instrumental master class ; stalls will be selling different harmonica trademarks, CD, DVD, various publications, etc. To finish with the traditionnal Convention Dinner Concert. Guest Jean Labre.

For more information contact :
Published March 9th 2016
Iran 1st Harmonica Festival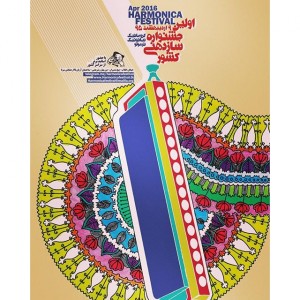 "If all the guys of the world wanted to join hands..."
Welcome to our Iranian friends who are joining us in our harmonica world. Our instrument has no borders, let's rejoice in it.
It is in Téhéran city, Iran Republic, that will take place, April 28th, the first harmonica Festival, harmonica being henceforth recognized as a full-fledged instrument on our planet. This is on the theme of chromatic harmonica, held by Soban Heidari talented player, that the Festival runs, inviting the public to discover an instrument mixing perfectly with the local folklore and classical music.
Harmonica players from France are joining me to wish you and your dynamic leader Soban Heidari a very happy festival

Jean Labre
France Harmonica Founder President
Published March 5th 2016