Concert Armos Ensemble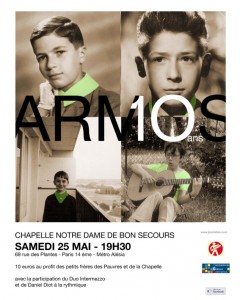 Armos group is back in its wellknown atypical style, with a Minevitch color... we like. Once again Pierre Rochat, their leader, invites us to share a moment of escape with his partners Dominique Lannes, Gérard Margnoux and Jean Pierre Auger, in their favorite territory, the "Chapelle de Bon Secours", in Paris.
The drummer Daniel Diot and the "Duo Intermezzo" (harmonica & piano) are also included in the program of this concert.
Dominique Lannes offers us an original poster of this event (opposite) showing photos of himself and his partners at the age of 10 years, with a reward to the first one who will recognise and name them more than 50 years later ! Clever advertising argument...
This concert will take place on May the 25th, 7,30pm, at the "Chapelle de Bon Secours", 68 rue des Plantes 75014 Paris, .

Information, reservation:
Published May 19th 2013
Yearly Festival Harmonicas de France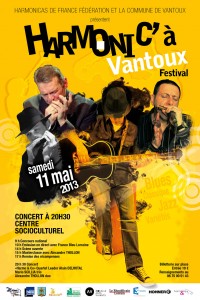 As indicated in our calendar column, this festival will take place in the Cultural Center Raymond Mervelet in VANTOUX 57070 France, near Metz city, from May the 10th to the 12th.

The program will include :
& Friday 10:
- 7pm: the welcome musical diner
& Saturday 11:
- 9 to 12am: National harmonica Championship
- 2 to 4,30pm open stage
- 3:30 to 4:30pm: Alexandre Thollon masterclass
- 5 to 6pm: cocktail award prices ceremony
- 8:30pm Concert, featuring: Alain Delhotal quartet & Mario Scillia trio & Alexandre Thollon duo.
& Sunday 12:
- 10am: general association meeting
Afternoon: Pompidou museum guided tour.
Reservation, information:
Poster: Republicain Lorrain
Published April 24th 2013
Quatuor Armos at the Emergenza Festival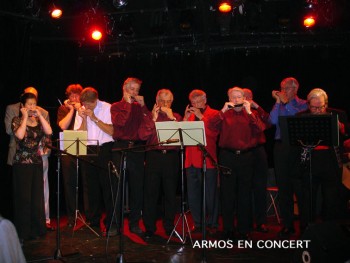 Armos ensemble have been highlighting the qualities of the chromatic harmonica since 2004, with a particulary rich repertory from classical music to jazz and variety, and also of their leader's compositions, Pierre Rochat, chromatic and violonist player. The other players with him are: Gérard Margnoux, Dominique Lannes (chromatic), and Jean Pierre Auger (guitar).
The Emergenza Festival will take place at "La Flèche d'Or" next April 20. This place is an old railway station which connected Paris to London, via Calais and Dover (1867-1934).

For more information have a look on our calendar page.
Published March 28th 2013
FRANKFURTER "MUSIKMESSE" 2013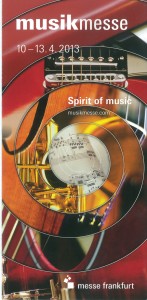 The "MusikMesse » in Frankfurt am Main is the leading international trade fair for musical instruments, sheet music, music production and marketing. Most harmonica brands are ready to welcome you in their booths, among which: Hohner, Seydel, Lee Oskar/Tombo, Suzuki, Hering, etc.
For over 30 years, thousands of enthusiastic visitors from Germany and all around the world have been coming to the largest and most important international meeting place for musical instruments industry. Here is where the music industry sector does business, here is where artists are celebrated and here is where the younger generation is inspired to make music.
Experience this unique spirit from 10 to 13 April 2013. From pure craftsmanship to digital music production. From business contacts at the trade fair stand to performances in front of the visitors on the numerous stages.
Spirit of music ! Vibrate to the rhythm of the world !

Information: http://www.musikmesse.com &
Photo : poster, Frankfurt Messe committee
Published March 9th 2013
World Harmonica Festival 2013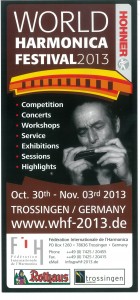 The Fédération Internationale de l'Harmonica welcomes you to the homepage of the World Harmonica Festival 2013. This international harmonica event will take place from Oct.30th to Nov.3rd 2013, in the musical town of Trossingen, Germany.
For the 7th time since 1989, the world Harmonica Festival will present the most highly regarded harmonica competition in the world.
The competition offers amateur players the unique opportunity to measure their instrumental skills against other players in a fair contest. Clearly defined criteria help the jury of experts(generally professional harmonica players) to adjudicate the competitors'performance correctly and analytically. As is usual in such contest, all contestants receive certificates signed by the jury leader and the president of the festival.
The festival website will be updated regularly to keep you informed about the program and its schedule.
We look forward to welcoming you to Trossingen / Germany in October 2013,
Best Regards
WHF-2013 Organization Team

Information: http://www.whf-2013.de
photo WHF/FIH
Published January 24th 2013
Online Harmonica Lessons wilth Charlie Mc Coy

Charlie Mc Coy has decided to pass on his experience, his style, to all who whish to learn the harmonica and also to improve on this instrument.
In this course, you will find more than 150 videos, covering all the main harmonica techniques that will allow you to play Country and Blues. Thus, you will learn how to breathe, to hold your harmonica, to play single notes, lowered notes/altered (bends), trills. You will also learn different techniques of bluegrass, the work of speed and effects as train rythm and Cajun accordion.
You'll be able to learn all these techniques on 20 themes, each time with progressive exercises. At the end of each stage, you will find more songs to practice. Each of them comes with a playback available, tablature, and all tips given by Charlie to improve yourself. For instance you will find essential titles of this music such as : Way down Swanee River, Shenandoa, America, Red River Valley, etc.
So, if you wish to learn this instrument, this is a unique opportunity to learn it directly with one of the world greatest harmonica player and musicians that Nashville has known.

It will cost you : 19,90 euros per month + 2 months free
Contact : http://mccoy.imusic-school.com
photomontage PSB
Published January 1st 2013
Trossingen 8th Harmonica Masters Workshops 2011


Welcome to the Harmonica Masters Workshops 2011!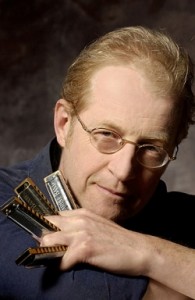 THE HARMONICA MASTERS WORKSHOPS once again promise to be the one of the Trossingen's cultural highlights, from October 30th october to November 4th. The internationally renowned event takes place in this city for the 8th time.
The small town, in the beautiful Black Forest region of the Southern Germany,is the headquarter of the famous reed instrument manufacturer Hohner. The company celebrated its 150th jubilee there in 2007 and Trossingen has hosted countless international harmonica events.
The Harmonica Masters Workshops are without parallel in Europe and combine classes taught by a world class team of instructors with evening concerts and sessions. They offer players the unique opportunity to study their instrument over a period of several days under the guidance of two masters players: STEVE BAKER, JOE FILISKO and guests, as well as hanging out with them in the evenings and watching them in action at close quarters.
I hope you'll enjoy surfing our website and look forward to seeing you in Trossingen.
- Steve Baker
Information : http://www.harmonica-masters.de
Published October 28th 2012
9th Asia Pacific Harmonica Festival 2012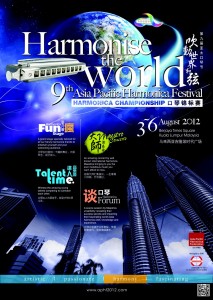 After Singapore in 2010, the 9th "Asia Pacific Harmonica Festival 2012" will take place from 3th to 6th August at Kuala Lumpur, Malaysia. This biennial event is usually the appointment of the Pacific rim: Malaysia, Japan, China, Singapore, Hong Kong, South Korea, Philippines, India, Polynesia, Thailand, Hawaii, Indonesia, Australia, New Zealand, New Caledonia, United States (California), and other participants from around the World.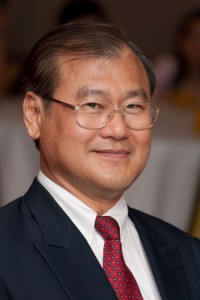 The organizing committee proposes a lot of activities to be held in the 5-star hotel "Berjaya Times Square" located in the golden triangle of Kuala Lumpur city center. Among other activities: concerts (Howard Levy, Chong Ah Kow, Brendan Power, Harmonicamento, He Jia-Yi, Jean Labre, Hotvill's, etc.), seminars, open stages, displays, stands of all brands of harmonicas, eastern cookery courses, tourism. The highlight of the festival will be the World Harmonica competition, including seven categories open to all ages (children, juniors, adults). Note that the previous competition in Singapore (2010) gathered 2530 participants, ensembles included!

Everything is orchestrated by the dynamic Chong Ah Kow, President of the Festival, assisted by Ching Chong Chee. Chong Ah Kow was the first Asian player who won a gold medal at Trossingen in 1989 (category tremolo diatonic).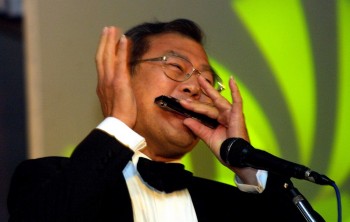 "We ensure you that your trip coming to Malaysia would become one of the most unforgettable holidays in your travel experience.
Best Regards
Chong Ah Kow & Chong Ching Chee"
Information : http://www.aphf2012.com &
photos : c/o my harmonica world aphf 2012
Published August 12th 2012
Helmut Hohner Death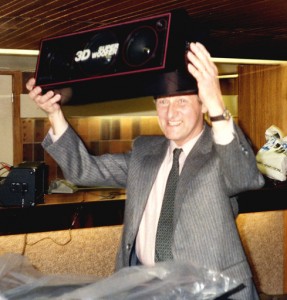 Helmut Hohner has passed away on June 29, in his home in Villiers sur Marne (Paris suburb), at the age of 87. With him disappears an endearing character of the past century, atypical and outstanding technician, loyal friend loved by all of us who were fortunate enough to cross the path of this exceptional man.
I met him in 1947. Helmut, born in Trossingen, had just been assigned to the prestigious Hohner harmonicas branch which is, coincidence, bearing the same name.
We met in a building situated in the street "Des Petites Ecuries" in Paris. Mythical place in which was the headquarter of the French Hohner branch, and, in the third floor, the CHARM Harmonica Club of Albert Raisner and the accordion school of Medard Ferrero. That's when Helmut, though he was a discreet man, revealed himself and became in fact the unifying cement, the soul of this community... Ideally placed for this, being the first person we met when entering the building, like a concierge, his workshop being located on the ground floor.
The Helmut's workshop! An Ali Baba cave in which we found immediately a solution to our problems at the bottom of a drawer or on a shelf, or in his expert hands ; he was a meticulous tuner and restorer of instruments, a magician of harmonica and accordion.
The time has passed. We found ourselves repeatedly in Trossingen at the "Alter Krug" Inn, meeting place of the French delegation attending the FIH Festivals. I remember a memorable evening there, in 1989, shared with him and our friend Claude Garden, in a great shape that night...
We will miss you Helmut.
I offer my very sincere condolences to his wife and his family, which my harmonica friends are sharing in.

Jean Labre

Photo( Rejan) taken in 1985 in Paris during the cocktail of his retirement.
Published August 11th 2012
2012 SPAH Convention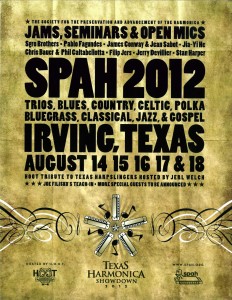 As it is announced in our calendar, the Spah convention is going to take place in Irving, Texas, from the 14th to 18th of August, in the hotel "Westin Dallas Fort Worth Airport", 4545 W. John Carpenter Freeway, Irving, Texas 75063
http://www.westin.com/irving
Every year, people coming from everywhere are meeting there at this Uncle Sam "Rendez-vous", with concerts, seminars, workshops, openstages, ending with a family concert dinner.
The poster announces a plethora of great players : Sgro Brothers, Pablo Fagundes, James Conway & Jean Sabot, Jia Yi He, Chris Bauer, Stan Harper, etc.
For more information and booking contact:
http://www.spah.org (convention 2012).
FRENCH HARMONICA PLAYERS ARE WISHING A GREAT SUCCESS TO THE 2012 SPAH CONVENTION.
Published August 10th 2012